REMOTE TRAINING – ONLINE TRAINING
Online Training is the ability to create and monitor a distance training program. If sport is a daily goal, but the context of your life does not allow you to be present in the exercise areas, then Remote Training is the right and direct guide to your exercise program.
Consists of:
        1. Tailor-made training plans
intensities (HR, power, pace), kilometres and diagrams, images and videos of the exercises
images and videos of the exercises for strength endurance training programs
        2. Real Time Communication between Coach-Athlete
Online monitoring
Chatting, messaging through the training platform
Comments and remarks (subjective load)
Get feedback after workout
Even without the physical presence of a coach, we draw all this information in real-time. We are then able to create the right training program that combines our know-how and experience. We customize the training program to your daily routine, your weaknesses and your goals. We harmonize the exercises with the material and technical infrastructure of the athlete's level and sport. This way, we ensure that you develop your potential to the fullest.
The programs concern runners, cyclists, and any sport the aerobic capacity and endurance training is a prerequisite. At the same time, we also cover the athletes that the nature of the sport requires strengthening, explosive power and speed.
        3. Monthly Training Program
        4. Evaluation of training improvement
We use a platform through which we can see the data from the watch (whichever you use and connected to your phone) where you record your workouts. So, we keep track of the exercises and create whatever interventions needed in your training plan. At the same time, we have the opportunity through our training platform to create a tailor-made program based on the training plan (quarterly, annual, etc.). We set up the programs together based on your time plan, goals and your perspective games.
We prepare tailor-made training programs, based on our know-how, our experience and the real-time of the technology we use. 
We provide you with everything you need to achieve your goal.
We are by your side and we follow your progress in every training session!
Vaggelis Roussopoulos is an excellent trainer, a competent professional with a passion for his job and an appreciation for his athletes! He deepens and specializes in each case and with his experience, knowledge and sincere interest, he strives to improve each of his athletes
A. Vartholomaiou – Runner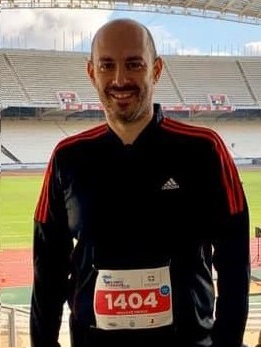 I have been collaborating with Vangelis Roussopoulos for the last 14 months. The change in my performance is enormous and is the result of systematic and well-organized training. Vangelis is polite, approachable and always available for clarifications and adjustments to the program. I am thrilled with him and his lab, and I highly recommend it.
Do you want to follow a distance training program?
Contact us for more information and an online appointment.
PHOTO GALLERY  
TRAINING APP
DATA RECORDS – MONITORING – IMPROVEMENT (according to historical data)